Rss feed
Stone Harbor Hires First Ever Paid Firefigthers
Wednesday, 23 December 2020
On December 15, Stone Harbor initiated a new era of combined paid and volunteer firefighters and emergency medical technicians (EMTs). One by one, the eight new paid firefighters were called out by Chief Roger Stanford and sworn in by Mayor Judith Davies-Dunhour, who called it a "historic day." The change was a product of the shifting demographics in the island community, along with the steadily rising property values. Fewer of those moving into the borough were becoming members of the v...
Jersey City Fire Department Swears in 33 New Firefighters
Wednesday, 09 December 2020
Thirty-three new firefighters are sworn in to the Jersey City Fire Department during a ceremony at Jersey City Hall on Tuesday, December 8, 2020. Photos and Story: https://www.nj.com/hudson/2020...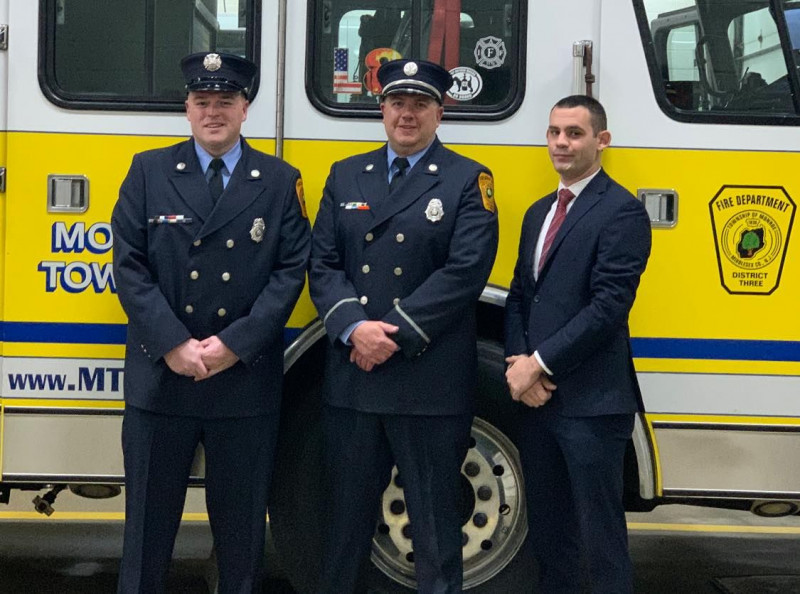 Promotions in Monroe Township
Wednesday, 09 December 2020
Congratulations to Monroe IAFF Local 3170 members Wayne Lyons on his promotion to Fire Chief, Local 3170 President Jim Hannon on his promotion to Lieutenant, and Mike Galvin on his appointment to the position of Firefighter in Monroe Township Fire District #3.
PFANJ Testifies in Support of Assembly Bill 4745
Tuesday, 08 December 2020
On Monday, December 7, 2020, PFANJ 1st VP Anthony Tarantino testified on behalf of the PFANJ in support of State Assembly bill A4745. This bill would raise from 45 to 57 the maximum eligibility age for exempt fireman certificates and membership in New Jersey State Fireman's Association. The bill was released from the Assembly Committee and now moves to the Senate Committee which meets on Friday. More on the bill: https://legiscan.com/NJ/bill/A4745/2020
COVID-19: Six Hackensack Firefighters Test Positive, 21 More Also Quarantined Out Of Caution
Friday, 04 December 2020
Six Hackensack Fire Department firefighters who tested positive for COVID-19 were isolating and 21 others who were exposed to them were quarantining out of an "abundance of caution," authorities said. Of the six who tested positive in the past three days, "one had moderate symptoms, two had minor symptoms and the other three were asymptomatic," Hackensack Fire Chief Thomas J. Freeman told Daily Voice on Wednesday. READ MORE: https://dailyvoice.com/new-jer...
Navigating Behavioral Health Insurance Coverage for IAFF Members
Monday, 30 November 2020
This training will introduce IAFF members and affiliate leaders to important considerations for health insurance coverage, with a focus on behavioral health services.Not all health care plans are built the same— do you know what yours covers? Are you prepared to help a member in crisis? IAFF Healthcare Advisor and Fort Worth Local 440 President Emeritus Jim Tate, will share insight on evaluating health care plan options and negotiating comprehensive coverage for members. Special consideratio...
As coronavirus fills N.J. hospitals again, a look at hospital bed capacity statewide
Thursday, 19 November 2020
With New Jersey deep into the dreaded second wave of the coronavirus, hospitals are filling up again in numbers not seen in six months.New Jersey's 71 acute-care hospitals are two-thirds full, according to the New Jersey Hospital Association.COVID-19 is partly driving that surge, with nearly 2,500 patients receiving treatment for the respiratory disease, according to data Gov. Phil Murphy released Wednesday. FULL STORY: https://www.nj.com/coronavirus...