Rss feed
Retired AC Airport Chief Needs Kidney Transplant
Thursday, 01 January 1970
Retired Atlantic City International Airport IAFF Local S-18 member urgently needs kidney transplant - help him find a donor! More info: https://www.thedonorapp.com/st...
Jersey City Fire Department Swears in 33 New Firefighters
Thursday, 01 January 1970
Thirty-three new firefighters are sworn in to the Jersey City Fire Department during a ceremony at Jersey City Hall on Tuesday, December 8, 2020. Photos and Story: https://www.nj.com/hudson/2020...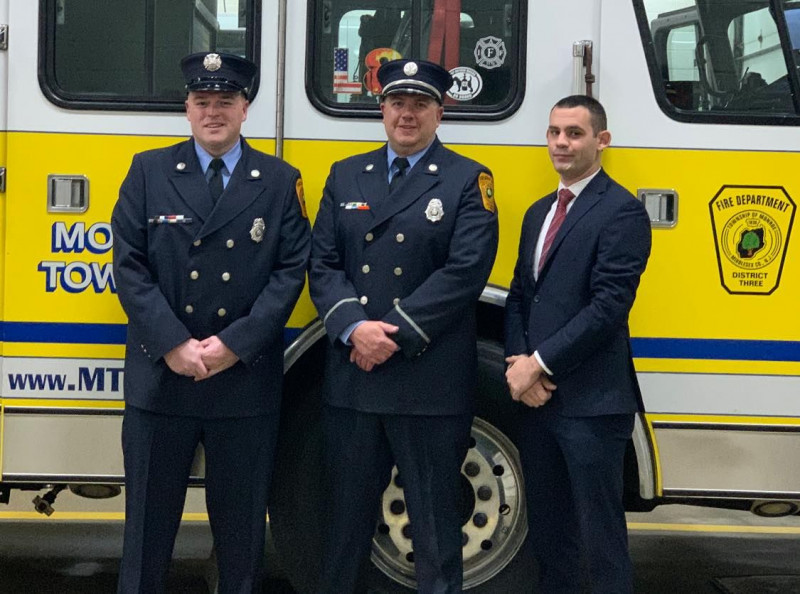 Promotions in Monroe Township
Thursday, 01 January 1970
Congratulations to Monroe IAFF Local 3170 members Wayne Lyons on his promotion to Fire Chief, Local 3170 President Jim Hannon on his promotion to Lieutenant, and Mike Galvin on his appointment to the position of Firefighter in Monroe Township Fire District #3.
Process for February 2021 Fire District Elections Still Remain Unclear
Thursday, 01 January 1970
It's not yet clear how the state intends to handle dozens of local fire district commissioner elections slated for Saturday, February 20. The problem is, by now, a familiar one. The state continues to report high numbers of new COVID-19 cases on a daily basis, and it's not clear whether vaccination efforts will have spread far enough to guarantee voters' safety at the polls come February. Eighty-three of New Jersey's more than 560 municipalities elect fire commissioners in 185 fire dist...
PFANJ Testifies in Support of Assembly Bill 4745
Thursday, 01 January 1970
On Monday, December 7, 2020, PFANJ 1st VP Anthony Tarantino testified on behalf of the PFANJ in support of State Assembly bill A4745. This bill would raise from 45 to 57 the maximum eligibility age for exempt fireman certificates and membership in New Jersey State Fireman's Association. The bill was released from the Assembly Committee and now moves to the Senate Committee which meets on Friday. More on the bill: https://legiscan.com/NJ/bill/A4745/2020
2021 Alfred K. Whitehead Legislative Conference and 2021 Michael A. Mullane Political Training Academy POSTPONED
Thursday, 01 January 1970
With the continued uncertainty around the COVID-19 pandemic, the IAFF has made the decision to postpone the 2021 Alfred K. Whitehead Legislative Conference and 2021 Michael A. Mullane Political Training Academy.The primary value of the Legislative Conference is the in-person meetings with lawmakers on Capitol Hill. This will likely be impossible with the ongoing public health crisis. Continued restrictions on travel and large gatherings were also deciding factors in postponing these 2021 events...
December 2020 PFANJ State Meeting
Thursday, 01 January 1970
The December 2020 PFANJ State Meeting will be held on Thursday, December 10, 2020 at 11am. Due to increasing occupancy restrictions due to COVID-19, December's meeting will once again be conducted via Zoom. Register in advance for the meeting at: https://us02web.zoom.us/webina... After registering, you will receive a confirmation email containing information about joining the webinar. All PFANJ members in good standing are invited and encouraged to attend.