Rss feed
WTC RICCI BILL DEADLINE JULY 8, 2021
Monday, 05 July 2021
Please be aware that any member who operated at the World Trade Center site and wishes to be on record with the Division of Pensions and Benefits, must register by July 8th, 2021 if they have not already done so. All information may be found by using the link below. https://www.nj.gov/treasury/pensions/ricci-ch157.shtml
GOV. MURPHY MEETS WITH CAPE MAY IAFF LOCAL 3495 MEMBERS
Monday, 05 July 2021
Cape May Firefighters IAFF Local 3495 Firefighters were honored to spend some time with New Jersey Governor Phil Murphy and First Lady Tammy Murphy during Saturday's Fourth of July Parade in Cape May. Cape May's families, visitors, and businesses - not to mention its irreplaceable Victorian homes - continue to be put at risk. Irresponsible refusals to invest in public safety by City leaders are causing highly qualified and experienced firefighters to regularly leave Cape May in search of bett...
PERTH AMBOY IAFF 286/4070 FIREFIGHTERS SUPPORT ASSEMBLYWOMAN LOPEZ
Monday, 05 July 2021
Perth Amboy IAFF Local 286/4070 Firefighters were honored to be on hand Thursday, July 1 at an event in Perth Amboy supporting Assemblywoman Yvonne Lopez. Top photo, Local 286/4070 members with Assemblywoman Lopez. Bottom photo, Local 286/4070 members with Assembly Speaker Craig Coughlin.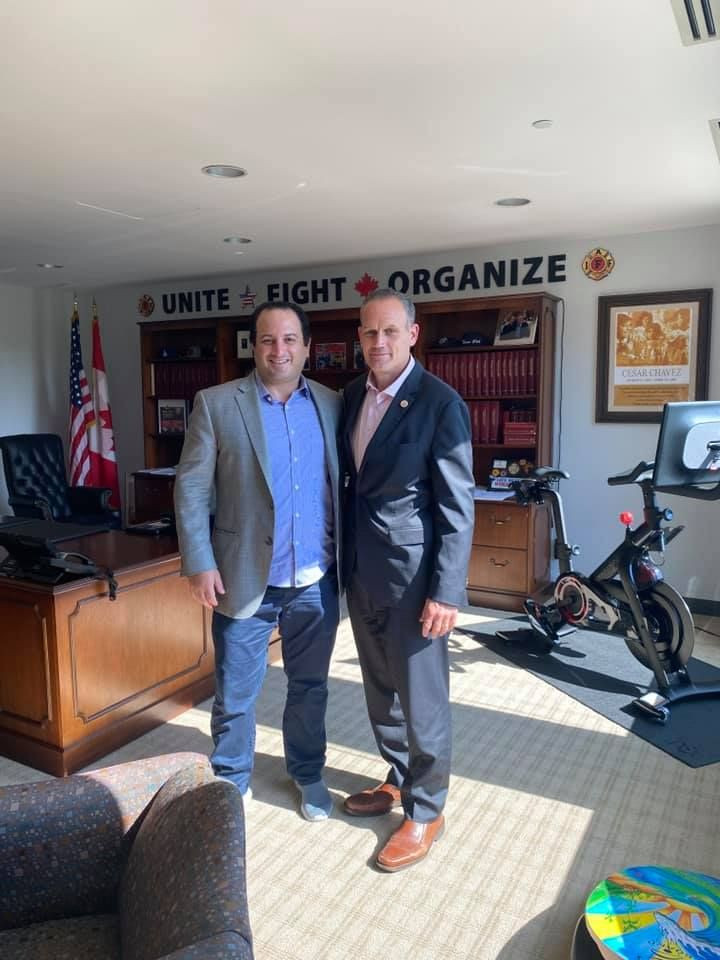 PFANJ TREASURER CALIENTE MEETS WITH IAFF GST LIMA
Monday, 05 July 2021
PFANJ Treasurer Matthew Caliente recently traveled to IAFF Headquarters in Washington, DC to meet with newly elected IAFF General Secretary-Treasurer Frank Lima. GST Lima reviewed IAFF per capita and financial reports with Treasurer Caliente.
PFANJ HOSTS DINNER MEETING WITH ASSEMBLY SPEAKER COUGHLIN
Monday, 05 July 2021
The PFANJ was honored to host a dinner meeting with Assembly Speaker Craig Coughlin on Tuesday evening, June 26, 2021. We thank the Speaker for his time and willingness to listen to the needs and concerns of the PFANJ's fire, EMS, and support services professionals.
REP. MALINOWSKI REITRODUCES EARLY MEDICARE BUY-IN BILL IN HOUSE
Monday, 05 July 2021
The PFANJ thanks Congressman Tom Malinowski (NJ-7) and Senator Sherrod Brown (OH) for re-introducing early Medicare buy-in bills in the House and Senate. HR4148 and S2236 would allow firefighters who retire early due to their strenuous and physically demanding work to join Medicare at age 50 and have access to affordable healthcare. This bill was previously introduced by cosponsors Congressman Andy Kim (NJ-3), Congressman Albio Sires (NJ-8), and Congressman Salud Carbajal (CA-24). FULL STORY...
PFANJ President Interviewed by NBCLX in Immediate Aftermath of Surfside, FL Building Collapse
Monday, 05 July 2021
PFANJ President Steve McConlogue offers his insights on television on building collapse response in the immediate aftermath of the Surfside, FL building collapse. President McConlogue has nearly three decades of fire service experience, including being a member of NJSP USAR (NJ-TF1) for many years. Watch the interview from NBCLX: https://www.lx.com/community/a...