Rss feed
NATIONAL EMS WEEK - MAY 16-21, 2021
Wednesday, 19 May 2021
This is National EMS Week and we recognize the critical role EMS professionals play in serving our communities. The PFANJ has thousands of members who are fire-based and single-role EMS providers, and the COVID-19 pandemic has tested those members like never before! National EMS Week is a time to recognize and honor EMS professionals for their tireless dedication to their communities — not just during this pandemic but every day of the year! As this pandemic continues, we must remain vigilan...
Public service in the U.S.: Increasingly thankless, exhausting
Wednesday, 19 May 2021
"They're battered and burnt out. They're stretched by systems where shortages are common... Colleagues are retiring early or resigning... There are mental breakdowns, substance abuse and even suicide, especially among first responders." FULL STORY: https://www.hollandsentinel.co...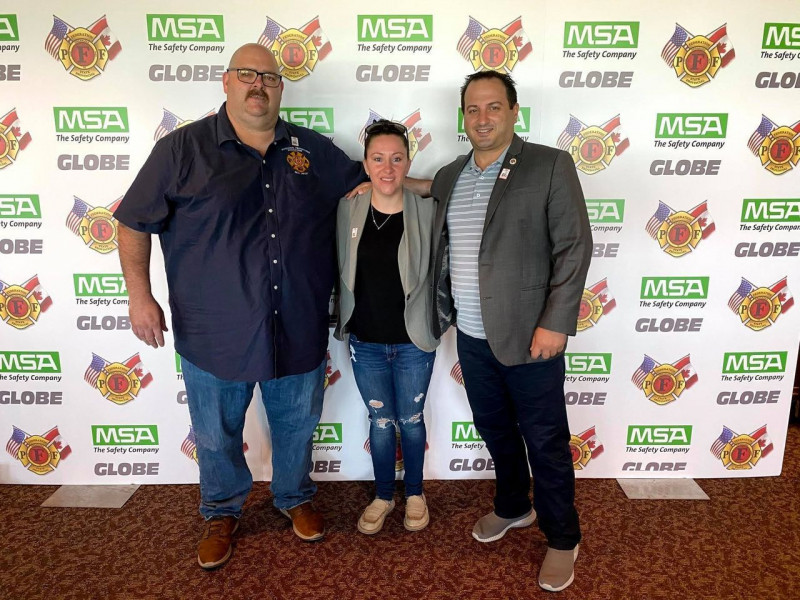 Past PFANJ President Dominick Marino & Daugher Rachel Honored at FSPPFF Spring Meeting
Wednesday, 19 May 2021
PFANJ President Steve McConlogue and Treasurer Matt Caliente represented New Jersey's PFANJ members in Oklahoma City, OK at the Federation of State & Provincial Professional Fire Fighters spring meeting. On May 13, attendees heard from IAFF General President Edward A. Kelly and IAFF General Secretary Treasurer Frankie Lima. Also, FSPPFF President Pete Carroza honored the PFANJ's late President Dominck Marino. On hand for the presentation was Rachel Marino, one of Dominick's daughters and ...
IAFF American Rescue Plan Act Webinar
Wednesday, 19 May 2021
In April, the International Association of Fire Fighters hosted an important webinar addressing the provisions in the recently passed American Rescue Plan that benefit firefighters and fire departments. In case you were unavailable to participate, the IAFF has made this webinar available to all affiliates: ;feature=youtu.be&fbclid=IwAR3joKYeP05MO_7lIQ1u4K4sINuZpH2yBq-jYLRrygmlEyH5OVXRGUOiaQ0
Governor Murphy Signs "20 and Out" Bill into Law
Tuesday, 20 April 2021
Nearly 8,000 New Jersey police and firefighters with 20 years of service can now retire early under a bill Gov. Phil Murphy signed into law Monday.The legislation (S1017), known as a "burnout bill," allows public safety workers who reach 20 years of service within the next two years to retire with a pension, regardless of their age. Current law limits the early retirement benefit, the equivalent of half their salary, for public safety workers hired after January 2000 to those at least 55 ...
1 Year Anniversary of Passing of PFANJ President Dominick Marino
Tuesday, 20 April 2021
On April 14, 2020, the PFANJ lost its beloved President Don Marino. "Donny" died suddenly at home while doing what he always did - working tirelessly on behalf of New Jersey's International Association of Fire Fighters / PFANJ firefighters, EMS professionals, and support services personnel. Donny served for over 25 years as a firefighter in the North Bergen Fire Department and North Hudson Regional Fire Rescue, retiring from active service in 2011. He held multiple leadership positions in the ...
PFANJ President McConlogue Named to new IAFF General President Edward A. Kelly's Transition Team
Sunday, 11 April 2021
PFANJ President Steve McConlogue who was named this week to newly sworn in International Association of Fire Fighters General President Edward A. Kelly's transition team. General President Kelly's transition team, chaired by 4th District Vice President Andrew Pantelis along with Vice Chair and Chief of Staff Matt Vinci, includes highly regarded local, state and provincial leaders, as well as elected International officers who represent IAFF members in locals large and small in all 16 distri...